Buying a brand new vehicle has many benefits. For starters, new vehicles are more fuel-efficient and rarely break down. They also have a manufacturer warranty covering most mechanical and electrical components.
While new vehicles are more expensive than used vehicles, they offer more excellent value for money. Unfortunately, manufacturer warranties do not last forever.
Most manufacturers offer warranties that provide coverage for three to five years. While they cover most parts, some components are not usually covered.
By purchasing a vehicle protection plan from Red Shield Administration, consumers can get coverage for the components that were left out of the manufacturer's warranty.
What is a Vehicle Protection Plan?
A vehicle protection plan is a legally binding agreement between a car owner and a vehicle service contract company or underwriter.
Vehicle protection plans are also known as vehicle service contracts, which is exactly what they are. Some people consider these plans manufacturer warranties, but they should not be confused. Keep reading to learn how they work
After purchasing a vehicle protection plan, the car owner pays the underwriter a premium in lumpsum or installments spread out over a given period.
In return, the underwriter undertakes to maintain the owner's car regularly and pay for any repairs required during the contract period. The duration of the contract and covered components will differ from one plan to the next.
It is important to note that Red Shield Administration offers customizable vehicle protection plans to suit the unique needs of different types of car owners.  Every vehicle service contract provider does not offer customizability.
Who Needs a Vehicle Protection Plan?
Vehicle protection plans are designed for car owners who need a service contract to fill a coverage gap. These plans are great for consumers who shiver at the thought of paying thousands of dollars all at once for car repairs.
These plans are the perfect replacement for manufacturer warranties, so anyone with a vehicle whose manufacturer warranty is about to expire should consider buying a vehicle protection plan.
It is important to note that car owners with good protection plans can drive their vehicles confidently because they have peace of mind. In case of car trouble, they'll get roadside assistance and effective repairs at no extra cost.
It's essential to note that Red Shield offers free roadside assistance and a free rental car whenever a client reports car trouble.
Vehicle Protection Plans Offered by Red Shield Administration
Two types of vehicle protection plans are available in the vehicle service contracts industry. These are the powertrain vehicle protection plans and the bumper-to-bumper protection plans.
The latter covers all electrical and mechanical components in a car, providing the best coverage and costs more than power train protection plans.
1. Power train Plan
It is worth noting that the power train plan only provides coverage for the engine, supercharger/turbocharger, front and rear axle, transmission, drive axle, and other components found in a drive train vehicle.
The powetrain usually has expensive components, so if you're only worried about the cost of replacing power train components, this would be the perfect option for you.
2. Preferred Plan
This vehicle protection plan provides coverage for the power train and other components known to fail regularly. This includes; the brakes, front suspension, steering (both power and manual), sport utility, air conditioning, and basic electronics, among other components.
3. Premium Plan
This plan covers all power train components, electrical components, and front and rear suspension.
It also covers the anti-lock brakes, fuel system, cooling, air conditioning, electronics, interior components, and exterior components.
4. Premier Plan
The premier plan offers the best coverage as it covers all electrical and mechanical components, so this is the ultimate bumper-to-bumper vehicle protection plan. Any component that is not covered is listed on the contract forms.
Important Point to Note
A vehicle service contract, just like any other contract, has specific terms and conditions. The obligations of the car owner/policyholder are listed together with the benefits they stand to get if they honor their end of the contract, which is paying the specified premiums. Car owners need to read both the exclusion and inclusion clauses, enabling them to make well-informed decisions.
Reasons to Buy a Vehicle Protection Plan From Red Shield Administration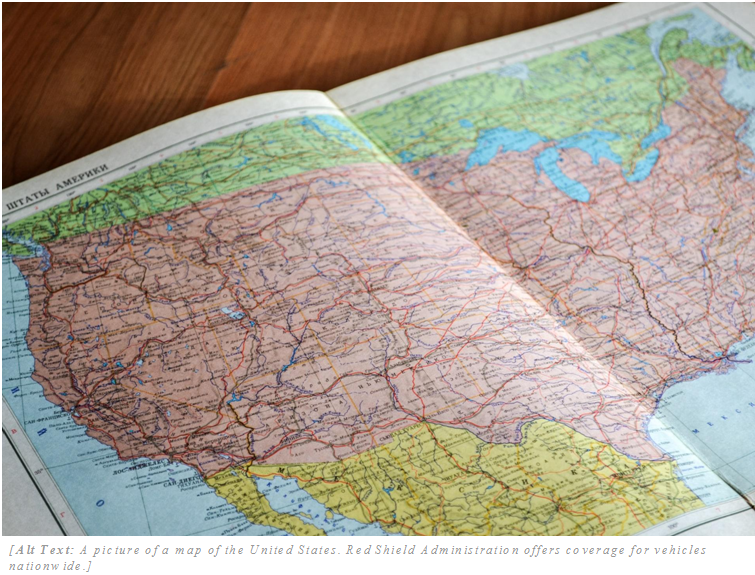 1. Nationwide Service
The company has an extensive network of partners spread out throughout the country. This means that clients can get roadside assistance and auto repairs nationwide.
2. 24/7 Roadside Assistance
24/7 Roadside assistance is an excellent reason to buy any vehicle protection plans offered by Red Shield Administration.
Whenever you develop car trouble, you can always be assured of getting roadside assistance regardless of where you may be. This is because Red Shield Administration has many partners across the country who can come to your aid.
3. Record-Low Price Guarantee
Red Shield plans are available at the most competitive rates on the market. The company offers a best-price guarantee. The company will match the lowest quote you can get anywhere else for similar coverage.
4. Convenient Payment Plans
Red Shield Administration does not force clients to make lumpsum payments. The company has flexible payment plans for its clients. Whether you need to pay over six months or a year, Red Shield will sort you out.
5. Easy Filing of Claims Online
Red Shield Administration has made several tweaks to its website. The main objective was to streamline the process of filing a claim online.
It is now much easier for clients to file their claims online. After submitting a claim, clients can expect to receive a call from the company or a local partner to make arrangements for roadside assistance and repairs.